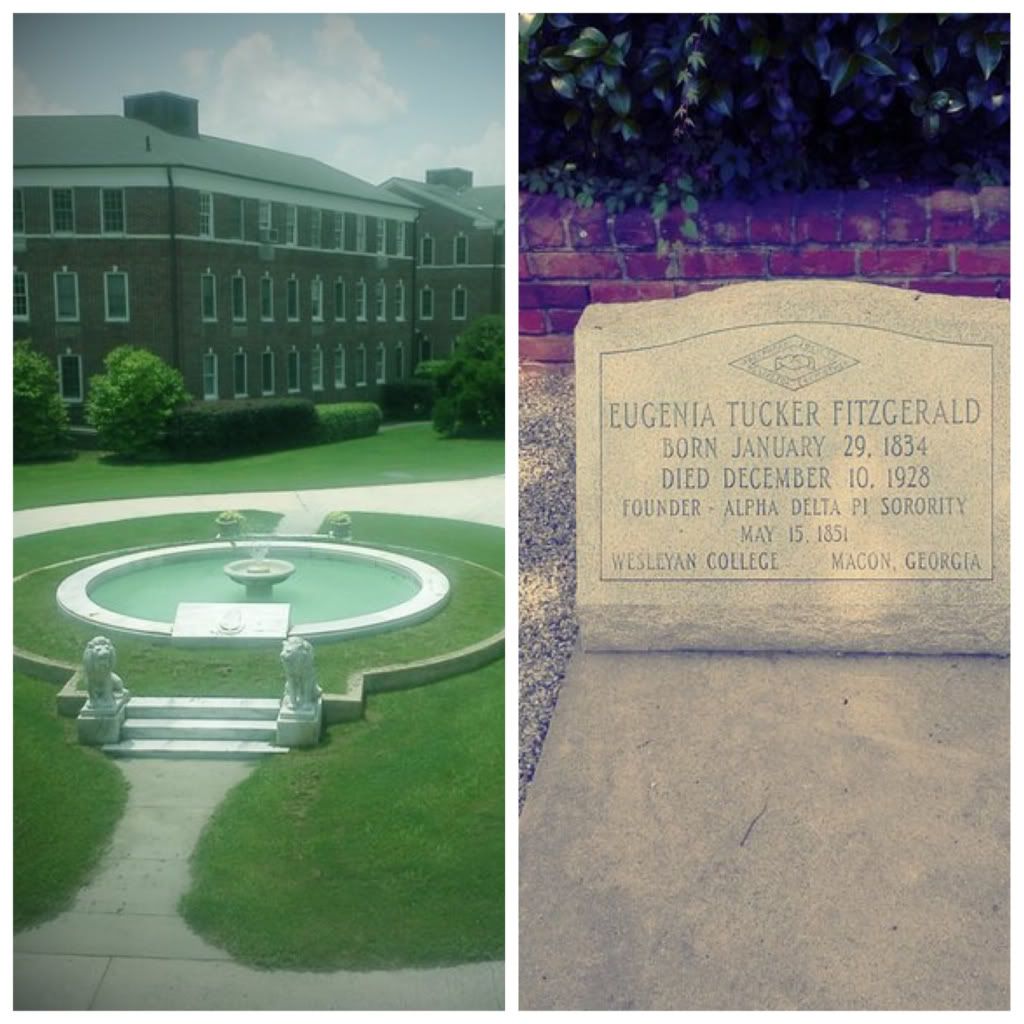 The Adelphean Fountain at Wesleyan College and
Eugenia Tucker Fitzgerald's burial site at Rose Hills cemetary
in Macon, GA
"This Society shall be called
Adelphean
, and shall have for its object the mental, moral, social, and domestic improvement of its members"
-Constitution, More Sisters
161 years ago
, the
First Secret Society for College Women
was created at the
First
college chartered to grant degrees to women. On
May 15, 1851
,
Six young women
attending
Wesleyan Female College
made a decision that would change the world. They created the
Adelphean Society
, which would later be known as
Alpha Delta Pi
. It amazes me how the idea and values these six women had is now carried on through 215,000+ initiated members and 140 collegiate chapters. I feel so privileged to be part of a sisterhood with such a rich a history and am grateful for all that it has given me. These last 5 years of my life would look very different if it wasn't for Alpha Delta Pi.
So, how am I spending Founders' Day? Doing ADPi things, naturally! I will be wrapping up tasks from my first year on the road as an ADPi Leadership Consultant, writing down some tips for next year's Sisters of the Suitcase, and skimming through my copy of
More Sisters
to brush up on my Alpha Delta Pi history. Next time you have a spare minute and see one of the
Sisters
,
Loyally
, or
Alpha Delta Pi
history books around, I highly recommend you look through them! You'll be glad that you did :)
"When I think of our small beginning, a few girls gathered in my bedroom,
and its growth and influence on so many young lives
my heart is full of joy and pride
I have an abiding faith that you will remember our motto
and be noble and unselfish women."
-Eugenia Tucker Fitzgerald,
in a greeting sent to the 1915 Convention
To all my Alpha Delta Pi sisters, Happy Founders' Day!
What will you be doing to celebrate?