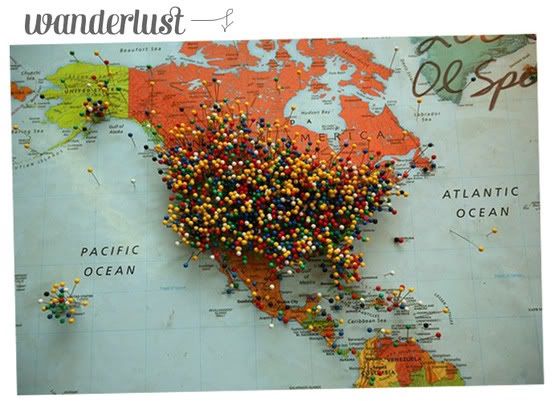 AFA
held a chat today on the
Future of the Traveling Consultant
. Since the twitter chat took place during one of the many productive
therefore great
officer meetings I had today, I'm posting my responses to some of the questions here. So today's post has two purposes. First, I'm linking up with
Blonde Ambition
for this week's set of confessions but these are going to look a little different than my
last set
. They are the confessions of a Traveler. A Fraternal Values Enthusiast. A
Sorority Professional
. A
Leadership Consultant
.
What are the most positive aspects of being a traveling consultant? What are the challenges?
I'll be honest,
I love a good challenge
. That is why I love this job. It is the most rewarding experience I have ever had and I wouldn't trade it for anything. With that said, this is probably the hardest job I've ever had. It constantly challenges me and has shown me just how much I can handle. It has taught me patience, it has instilled me with a new kind of confidence, it has strengthened my moral character, and it has showed me that you can truly achieve anything that you set your mind to.
And that's just scratching the surface
. Living out of suitcases for a year and being on a plane every few days isn't the easiest thing. You get sick of your clothes
(which is what I'm blaming my shopping problem on)
, you lose track of days, and sometimes you wake up in the morning and have to think for a second to remember what state/city/university/time zone you're in
#TLCM at it's finest
. But when your chapters are reaching and exceeding their goals, making great strides of improvement, and letting their passion for your organization and its values shine, it gives you this feeling of pride and happiness that just can't be described.
I would think this is what a parent feels like when their kid graduates college or lands their dream job.
It just makes everything worth it.
I may be going to a state where I don't know a soul other than the Chapter President who I spoke to on the phone prior to my arrival, but as soon as I see my sisters in their ADPi gear waiting for me by baggage claim, I know it's going to be a great week. It's amazing how I can be in a new place every few days and still feel at home with these women who wear the same badge and share the same values as I, and every Alpha Delta Pi, do. Each day brings something new and is a learning experience. You are not just influencing the future of your organization and the world, but being influenced yourself as well. Fellow traveler
Ryan
said it perfectly.
"
I came into this position thinking I would change lives and build better men.
In reality, that is what students did for me
"
What are some best practices you use for supporting struggling chapters?
I want to start off by saying that
there is no such thing as the perfect chapter
.
Period
. Whether you're at the highest performance award level for your organization or striving to reach that first step to it, there are always things you can be doing to make chapter operations and programming even better. What I've found to be most affective in a short amount of time is to just
ask questions and listen
. It's a lot harder to be helpful if you don't understand the situation. Get that information you need from chapter officers, advisors, Inter/national officers, and university professionals to provide support and advice that is relevant to the chapter and campus you are working with. Collaborate with chapter officers to create
S.M.A.R.T. goals
and to develop a plan to achieve them.
How do you make the most of your meetings with campus professionals?
One of the first things I do prior to my arrival is scope out the university's Fraternity and Sorority Life website. A lot of the time I can find recruitment rules, bylaws, university policies, chapter grade reports, and other necessary information there that can better prepare me for the chapter and FSA
(Fraternity and Sorority Advisor)
visit. Student Affairs professionals are busy and so are consultants, so why not make the most out of the meeting? Be prepared with questions you may have. FSA's have a wealth of knowledge about the campus culture and their insight is invaluable. They offer a different perspective and are there to ensure the success of every chapter they work with. Find out what they see as strengths and weaknesses of your chapter and the Fraternity and Sorority community so that you can work with your members to address these points. Is there anything more they would like to see from the chapter or the Inter/national organization? Find out! I could go on about the types of conversation you could be having, but I think you get the point. The Fraternity and Sorority Life office is a great resource for chapters that often stays untapped. Remind your chapters to use it!
What technology do you use on the road to make the job easier?
We were fortunate enough to have an
iPad 2
with a
keyboard
to travel with which has been so much easier than having to lug around a heavy laptop.
Trip It
is an awesome app for those consultants who will be booking any flights, hotels, or rental cars. It saves all your travel information and confirmations in one place so you're not constantly have to search for them in your email. It makes my life so much easier!
Skype
,
FaceTime
, and
Tango
are all great apps to stay connected with friends, family, and your fellow consultants. Everyone is just a click away!
Instagram
,
Twitter
, and Facebook are also great ways to keep in touch with sisters I've met on the road and everyone back home!
One of the challenges is finding balance of time. How do you make sure you are most effective in your role and take time for yourself?
It's important to know that
it's okay
to take a little time for yourself. I'll be honest, most of the time I get so caught in my visits and getting to know chapter members in such a short time that I sometimes forget to make a little time for me.
I feel like I've had a problem taking some "me time" long before I started this job though.
But it is so important to take it! If you need to sleep, hit the snooze button! If you feel a cold coming on, take some extra Vitamin C! If you need to call your mom/dad/boyfriend/girlfriend/fellow consultant/sister/brother/big/little/diamond/etc. take the time to do it!
Time management is so important in this job.
Set time aside to hold officer meetings, to complete reports, respond to emails, and make any necessary calls but also make time every now and then to focus on you so you don't get burned out. Whether it be a nap, a yoga video, a movie on Hulu or Netflix, a run, or whatever relaxes you, that little bit of time you take for yourself is refreshing and can make a big difference.
Any advice for current and future consultants?
Although this job and your organization are your top priorities, don't forget to remind yourself that it isn't your members'.
They are students first
.
Keep in mind that what worked at one campus won't necessarily work at every campus. But there's a good chance that it can be adapted and tailored to the needs of another!
Rome wasn't built in a day. Progress isn't always going to be immediate but that doesn't mean that you aren't positively influencing someone.
Take the time to really get to know the men and women you are working with. You'll make some connections that will last a lifetime.
Your fellow consultants will be one of your biggest support systems! I don't know what I would of done with out my LC sisters this year.
If there is another consultant in town when you are, try to meet up with them! Share your experiences. You can learn a lot from each other as well!
#roadwarriors
Through the ups and downs, don't forget to cherish every moment of your journey! It'll be over much sooner than you think.
Again, this post is just the tip of the iceberg and far from complete but at least it's a start! I feel like I could try to write a book about this journey and still not encompass everything my year on the road has taught me. Every consultant has a different experience. Many of us learn the same lessons, sometimes in different ways, develop practices that work best for us, and can provide a different approach/perspective than our peers but we are all working towards a common goal: the success of our members and the Fraternity and Sorority Community.
It has been a privilege to serve the sisterhood that has given me so much already.
I am honored to continue to serve Alpha Delta Pi as a 2012-2013 Senior Leadership Consultant and cannot wait to see what this next chapter in my life has in store!







- Posted using BlogPress from my PiPad