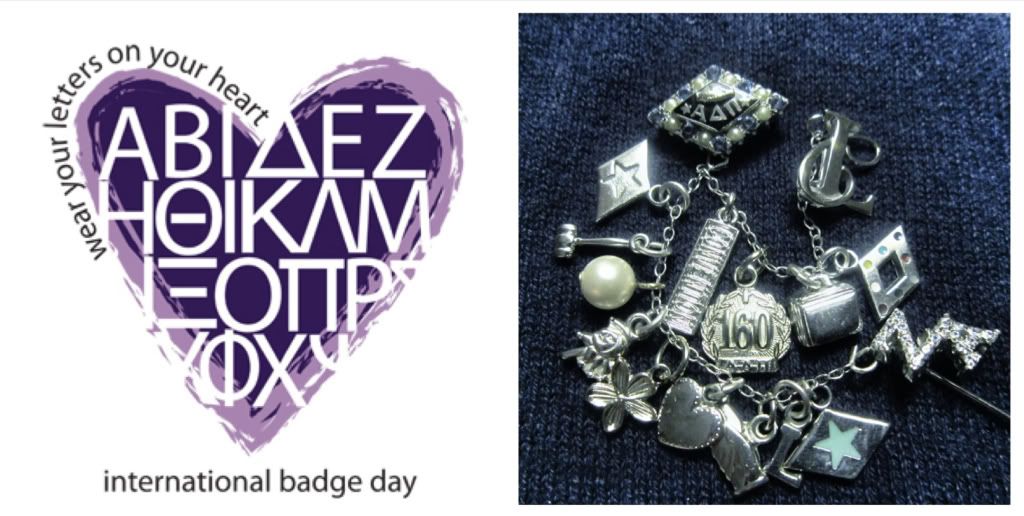 The day is finally here! I'm sure you've seen the Facebook events, the #badgeday12 tweets, and heard the announcements at your Panhellenic and Chapter Business Meetings. It's INTERNATIONAL BADGE DAY! Today is the day where we sport our badges outside of sorority functions and show the world our pride in our sisterhoods.

The National Panhellenic Conference made the perfect choice in designating this day in the month of March, which, as most of y'all may know, is National Women's History Month. There are over 4 million initiated sorority women in the world. How awesome is that?! Each one of us has the potential to truly make a positive impact in this world and so many Sorority women before us already have!

International Badge Day began in 1997 to honor the incredible organizations we are privileged to be members of. That's right, I said "privileged to be members of." Being able to wear our sorority badges isn't a right, it's a privilege. What sets us apart from other "college clubs" isn't the fact that we get to buy cute stitch letters and meet lots of great people. We are values based organizations. We joined to become better women and live up to the high standards and values set by our founders.
"I believe that the privilege of membership in Alpha Delta Pi brings the responsibility to do my best in whatever I undertake..."
-Creed of Alpha Delta Pi
I'll definitely be wearing my badge today! I love wearing it and am so happy this year on the road has given me so many opportunities to wear it. So to all the collegiate and alumnae sorority women out there, and I'm talking to ALL the Panhellenic, Multicultural, National Pan-Hellenic, Latina, and Asian Pacific Islander sisters, I can't wait to see y'all wearing yours!
Blog Title and Image Courtesy of the
National Panhellenic Conference
- Posted using BlogPress from my PiPad