Current Location: Over thirty thousand miles above ground flying one of my favorite airlines, Southwest. Although the seating situation is a little odd and I always end up in a middle seat 'cause I don't check in online the day before, the employees are hilarious, the seats are comfortable, and the first two checked bags are free. YES!!
#itsthelittlethings
Where am I headed? Kansas City, Missouri for my first set of days off this year. For those of you reading from back home, Kansas City might seem a little odd so I thought I'd share a little story with you. Some of you may have heard this one before, but I thought it would still be a good one to share! It all starts when I was five years old and first moved to Whittier, California.

I was enrolled in a kindergarten class at what was then called Future Frontiers. There I met my friend Tanna and we were inseparable. We hung out at school, after school, had sleepovers, took pictures with the Easter bunny together (I will be digging that out when I'm home), and always had a blast together! Well, at the end of that year Tanna and her family made the move to Missouri. Her goldfish was left in my care and that thing stayed alive for what felt like forever! We kept in contact over the years through letters and holiday cards but as we became involved over achievers, we lost touch.

Fast forward to 2007 and my first semester of college. Facebook was becoming a big deal, and let's be honest, I was all about it. One day, I was home going through some old files and found a Christmas card from Tanna's mom so I thought, "Hmm....I wonder if Tanna has Facebook?" So here began my Facebook creepin' skills (kidding!) and sure enough, I found her! I sent her a message that pretty much read "Hi! Not sure if you remember me, this is Cristina from Whittier. Found an old card and thought I would say hi to see how you've been!"

Turned out Tanna had just become a member of Alpha Delta Pi. It just happened to be right before Cal State Fullerton's Formal Recruitment and I had friends from high school who are ADPi's! I let her know but also mentioned that they had told me to go through with an open mind so I could pick the sorority that was the best fit for me.
I'm sure I don't need to say what I chose...
So we ended up being sisters!!! We caught up via Facebook and in the the Spring of 2008 took officer positions in our respective chapters! Of course, the life of a college student and officer can be a little hectic so we went a few months with brief hello's and how are you's but that was all we really had time for! That semester, my Chapter President asked if I would be interested in attending Alpha Delta Pi's Leadership Seminar Program "Diamond Boutique" for Membership Education Vice President. Of course I said yes! That was an amazing opportunity I wasn't going to pass up!

My chapter sister Brittany (who was attending the IMPACT program at LS) and I flew out to Hotlanta in June of 2008. In IMPACT, the participants are divided up into Pride groups (Alphie, lions, prides, get it?). Well, in Brittany's pride was Lindsay from our Delta Phi chapter at University of Missouri-Kansas City. When they met, Brittany had told her "I think my chapter sister Cristina knows someone from your chapter, but I'm not really sure if it is your chapter." So that was that and we all went on to have a blast at our respective workshops!

Now this is where it gets really interesting. My session before dinner was running a little late so Brittany was sitting with Lindsay, Lindsay's chapter sister and other ADPi sisters we met from Winthrop, UNC Chapel Hill, and Duke (If y'all are reading this, hope life is fab!!). Lindsay's chapter sister asked Brittany where she was from, so she told her she's from NorCal but went to school in Orange County at Cal State Fullerton. Lindsay's chapter sister said "Oh, I know someone from your chapter! Do you know Cristina Perez?"
If you didn't guess it already, IT WAS TANNA!!
I walked into the banquet hall for dinner, found Brittany at our table, and after 13 years, was reunited with my long lost friend!! We squealed, we hugged, we called our moms, we laughed at how much we haven't changed since we were five, and pretty much just made a scene in the middle of hundreds of people. But it was totally worth it. If that's not proof I was meant to be an ADPi, I don't know what is. Tanna and I have had sometime to hang out over the last couple years, including her visit to California (which is where the picture below is from. California Adventure. Obvi.) and a couple times for a quick dinner while I've been on the road! So that's what brings me here to Kansas City, Missouri. I haven't even been here a full 24 hours I'm already having a great time. We had dinner with her mom "Miss Tami" (yup, that's what I called her back in those kindergarten days) who I hadn't seen in 17 years. We made a scene there too.
Sorry I'm not sorry!
That's one of my many stories proving that I made the right decision almost five years ago. It's a constant reminder that each of our organizations are so much bigger than ourselves or our own chapters or our little university bubble's that we create. Don't ever forget that there's more out there!! If you ever lose sight of that, get frustrated, or maybe just stuck in a rut, remember what being Greek is really about: our values and friendships that extend further than you can even imagine.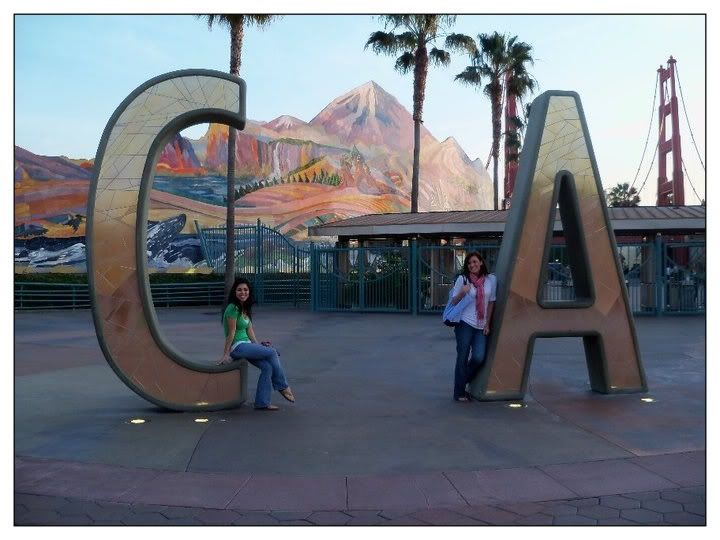 Blog title courtesy of
Dreamer by Elizaveta
- Posted using BlogPress from my PiPad