Okay, so the year is over in just a few days and I'm finally wrapping up the end of my Fall semester on the road! After a week in Texas, I flew back north to see the sisters of Delta Omega at Northern Illinois University. I was welcomed home with a t-shirt, gift basket of snacks, and a fun dinner that was kind of a mission to find...but made it all the more fun. After getting an automobile tour of the campus (it was much too cold for this SoCal girl to walk around for too long) we stopped in front of the Student Life building to take a picture with the Husky bearing lavaliere of each sorority (ignore my hair, it was more than a tad bit windy #illinoisweatherproblems). Delta Omega has a beautiful chapter house! The basement is complete with a fun lounge area, flat screen, and a separate work out room! I got to see my first snow fall and even though it it melted before it hit the ground, I'm still counting it. I had a blast with the women of Delta Omega and can't wait to see them again :)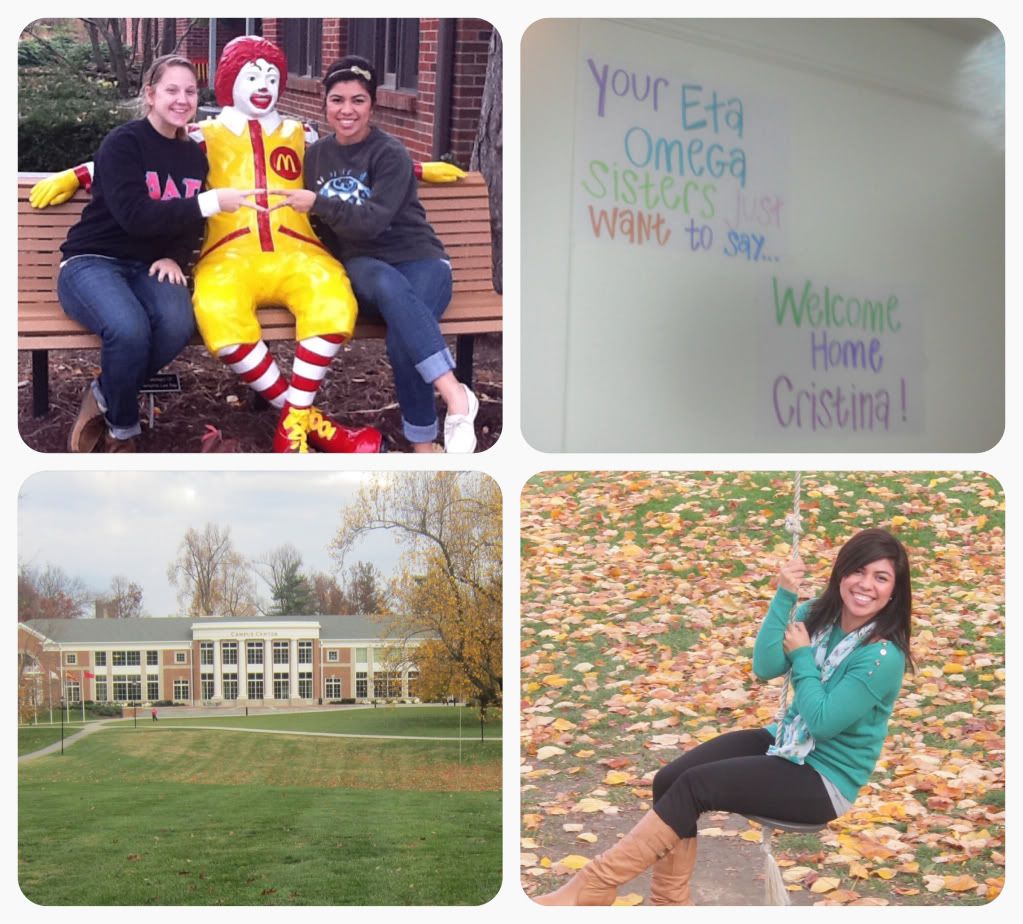 My next stop was in Danville, Kentucky with the lovely sisters of Eta Omega at Centre College. Centre is roughly an hour out of Lexington and has a student population just over one thousand. Fun Fact: They have not had a day of classes cancelled since the Civil War when the campus was used as a hospital (Much different from CSUF furlough days #CAbudgetproblems). They don't even close for snow days since most faculty members and students live within walking distance!! On the day I arrived, I was given a tour of the BEAUTIFUL Centre campus where I learned fun facts, rode and got stuck on the tree swing, and saw some interesting things like fossils and and the infamous flame sculpture. My visit also included my new favorite workout, Zumba, officer elections, checking out Danville's best cuisine, a movie night with FroYo in Lexington, and an unforgettable trip to the Ronald McDonald House where we made brunch. I am so happy my first time in Kentucky and with the sisters of Eta Omega could be so memorable :)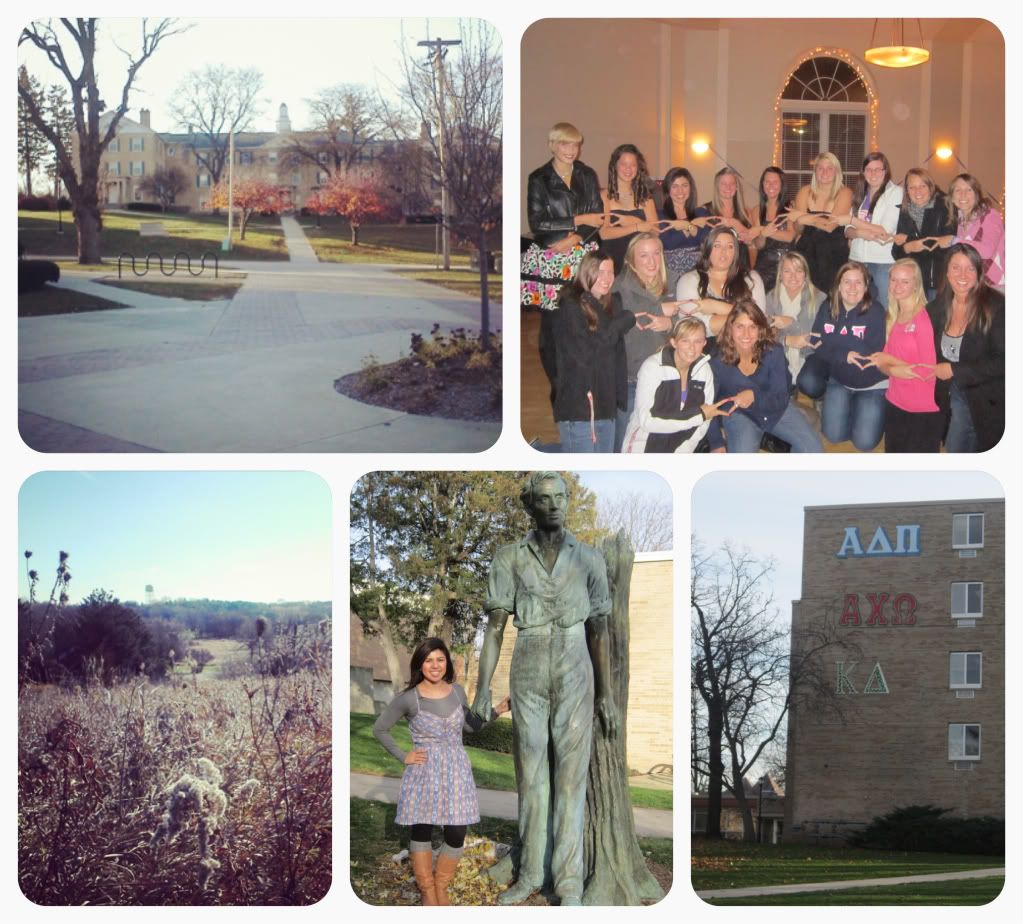 My last visit before Thanksgiving Break (yup, I get all the awesome college breaks with this job), I flew back to District IV to see the sisters of Delta Pi at Ripon College in Wisconsin. This college has just over 900 students....I was blown away when I read that info before I arrived. Keep in mind, I come from a school of 36,000+ students. But let me tell you, the more schools I visit with smaller student populations, the more I kind of wish I had that experience! Who knows, maybe for Grad School....but anywho!! Ripon has three Panhellenic sororities who each have floors in a dorm. A little spooky, the campus is right next to a cemetery, but the students don't even notice (I, on the other hand, watch way too much Ghost Adventures with my brother and did).
Fun Fact about Ripon
: It's the birthplace of the Republican Party (but Lincoln's Republican party whose ideology is more aligned with today's Dems...confusing, I know, I need to brush up on that again). We went to a philanthropy event hosted by the Comm department called Mr. Ripon which is, you guessed it, a thoroughly entertaining pageant for male representatives of different organizations where we got to see Sister Brittany "McKey" Sullivan, America's Next Top Model winner from the 11th cycle! We had a sisterhood event for the midnight showing of Breaking Dawn which was totally worth staying up late for! #TeamEdward...sorry I'm not sorry :) Ripon also owns a Prairie Conservancy that has an awesome trail with a beautiful view of the city and campus. Thank you Delta Pi for a great visit!!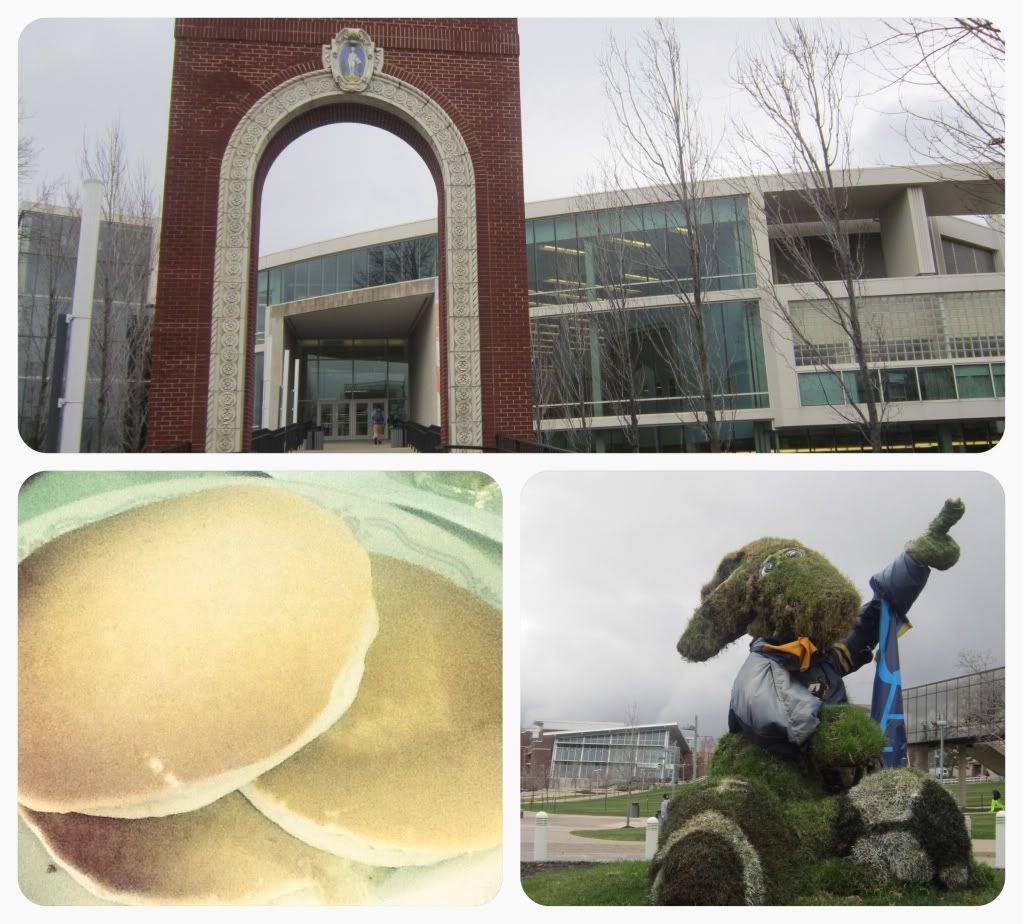 And last but not least, I ended the semester with a trip to Ohio to see the women of Beta Tau at University of Akron. First, if you haven't recognized the name, Akron is the home of LeBron James and well known companies like Goodyear and Quaker Oats. On the day I arrived, my awesome rooms gave me a tour of UA's campus where I got to see the huge rock candy like sculpture made of polymers (For you Greek fans, that was Rusty's major!! Yup...I know that, sorry I'm not sorry), check out the awesome Rec Center, the giant Zip, and the student union complete with a Barnes and Noble, Starbucks, Subway, and Auntie Anne's. During my visit we went to Alpha Gamma Delta's Lip Jam to support our sisters who worked it out to get 2nd Place, attended A Capella Nuance's annual concert, and had a successful P-IHOP Pancake Breakfast! I'd also like to recognize Beta Tau for the efforts and being recognize as a Golden Lion chapter for the third consecutive Convention. Congrats!! I had an amazing time with Beta Tau from late night chats to Just Dance marathons!!
I can't believe that half of my year as a Leadership Consultant is already over! I've had 15 chapter visits to 13 universities in 12 states in 5 months and I have loved every single minute of it!! So what's next for this LC?
Well, it's Formal Recruitment season again and I'm off to Waco, Texas, home of
Zeta Chi chapter at Baylor University
!
- Posted using BlogPress from my PiPad