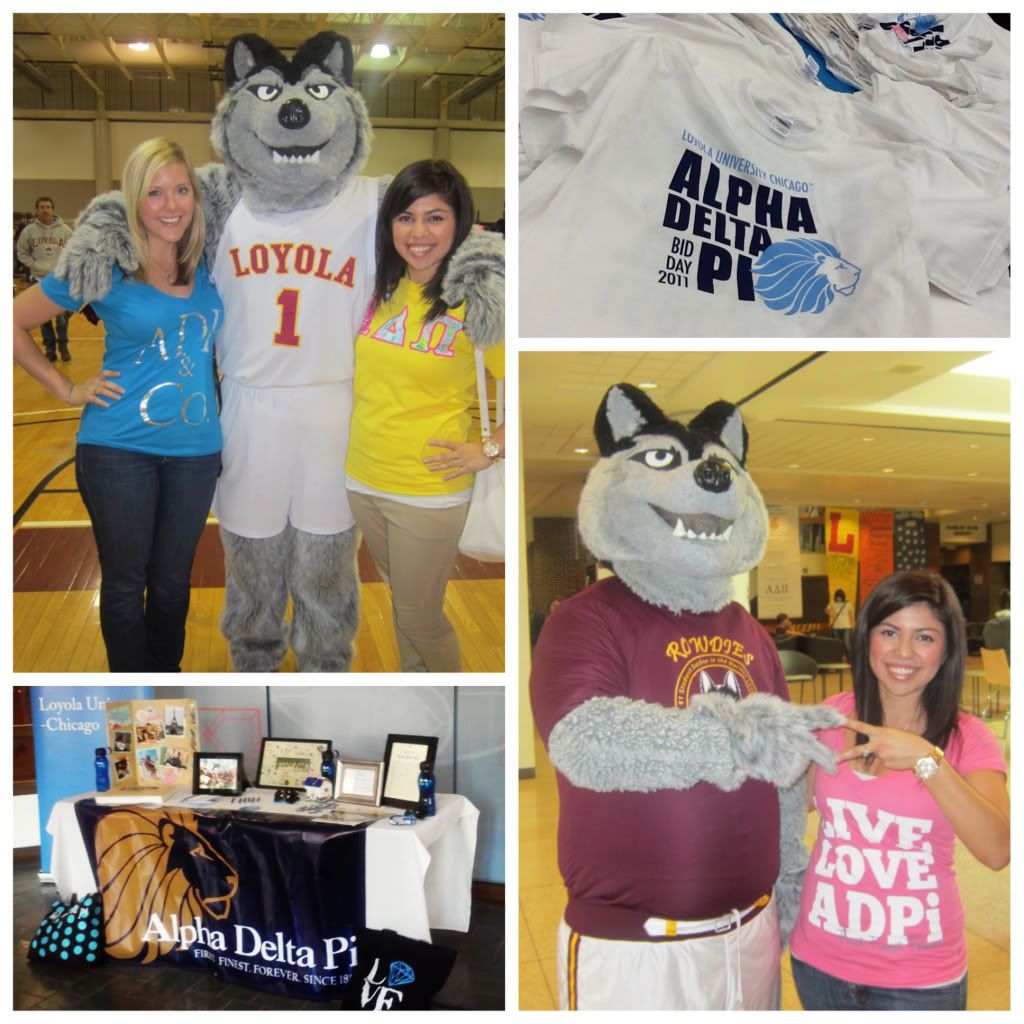 I touched down in Chicago to meet up with my LC sister Andrea and help market and recruit for Alpha Delta Pi's newest home at Loyola University. Starting a colony of 80+ women from the ground up...
Was it a little daunting?
Yes. Definitely.
Was it totally worth it?
Without a doubt.
I arrived just in time for week 2 of Marketing and I had such a blast!! Andrea and I met so many amazing women and I fell in love with Loyola Chicago more and more each day. LUC's mascot, Lu Wolf, is pretty much my new best friend
(if you can't tell from the pictures)
, we blended in with the students at Homecoming, and braved the windy weather going to and from campus. Let me tell you, walking with suitcases full of marketing materials against Chicago winds...
Best. Resistance. Workout. Ever.
But all the hard work paid off when we extended bids to 94 women and welcomed home Loyola Colony's first Alphas! Their passion and excitement was so invigorating!! They were pros at throwing up diamonds and looked fabulous in their blue and white! It's amazing how our values and ritual can bring together complete strangers and unite them into a group of women who I know will accomplish amazing things. Chapter Retreat was so much fun! True Colors, Goal Setting, Committee Review, Ice Breakers, Prides and getting to know each other made for the perfect day.
As crazy as starting a colony from the ground up may sound, it is one of the most exciting experiences I've ever had. I am so honored that I had an opportunity to be a part of the legacy that I know the future Theta Mu chapter will continue in the many years to come. The day before I left, the fab women threw a little sisterhood event and made me an awesome card that is proudly displayed in my room :)
Chicago was an absolutely amazing city that I know I'll live in at some point in my life. I loved taking the "L", not needing a car because everything was walking distance and public transportation is actually pretty reliable, the people, the culture, the shore and parks for that nature fix, and most importantly, how at home I could feel at place I had never been to. I loved exploring the city with Andrea and on my own, seeing Ben Rector at
Lincoln Hall
, taking a tour of Northwestern, and the big city life. I cannot wait to be back in Chicago, hopefully this January, for our Loyola Colony's Installation Banquet when they officially become Theta Mu chapter of Alpha Delta Pi
#GoRamblers