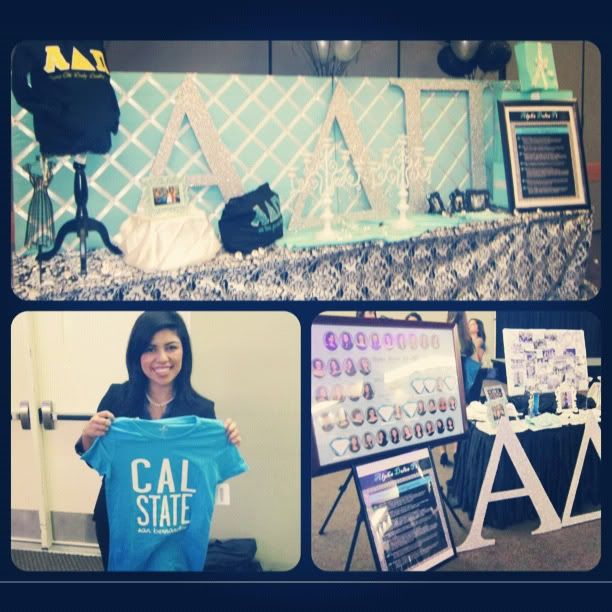 When I read my schedule, I thought...hmm, Eta Kappa? Am I wrong when I'm thinking of San Bernardino? Do I really get to go back to SUNNY SOUTHERN CALIFORNIA!! So I look up the chapter name and sure enough, it's CAL STATE SAN BERNARDINO!!!
As much as I love the other beautiful regions of the good ol' US of A I was so excited to head back to the Best/West Coast!! Plus, having worked for and being a product of the California State University system, I'm a tad biased. So it was a little cold in SB, pretty windy, but it's okay! I loved it! San Bernardino is about an hour away from where I grew up and went to school but it was so refreshing to work with Eta Kappa (&& for some sisters, to work with y'all again after Spirit Week '10 as a collegian [: ). Their awesome Province Director and one of the many fab members of the District VI team picked me up from the airport where we headed to CSUSB to kick off FORMAL RECRUITMENT!! So, I thought I had my last Fall Formal Recruitment at University of Vermont which was bittersweet but CSUSB, gotta love your quarter system and the recruitment weekend that's later than most! && boy, was it a great one to end the semester on :D
Eta Kappa rocked their opening song, had a blast behind the scenes with their dance breaks (I wish I could shuffle like y'all can!), learned harmonies in 5 minutes flat, and recruited some awesome Alphas!!
Now let's talk about the sisterhood that extends beyond the boundaries of our campus. Special thanks to all the alumnae, the sisters of Zeta Alpha (always nice to see y'all, obvi! [: ), and of course the hard work and dedication from the women of Eta Kappa. If this weekend wasn't living for each other, I don't know what is.
If you're ever looking for some fresh sisterhood ideas, why not reach out to a nearby chapter and plan an event together! Sisterhood doesn't stop when you step off university grounds or your chapter house. Remember, you sisterhood is not four years...it's
for life
and everywhere you go :)
- Posted using BlogPress from my PiPad
Location:California State University, San Bernardino, San Bernardino, CA