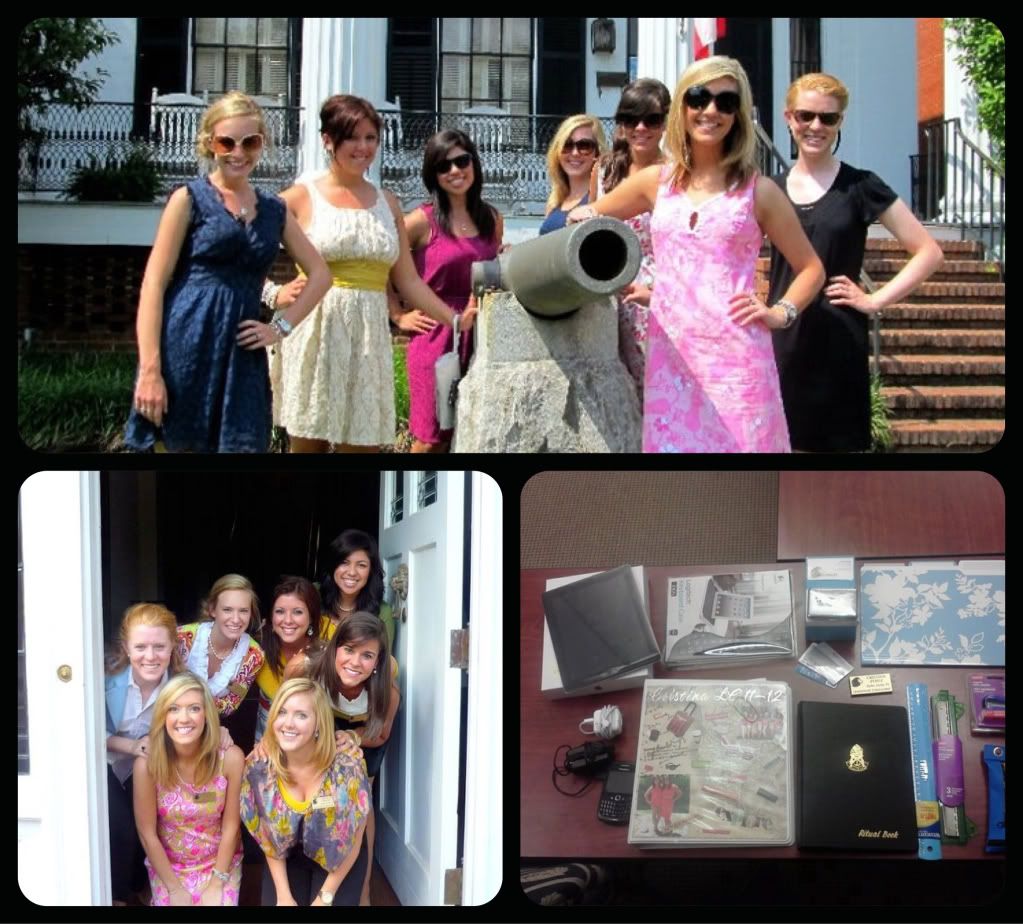 The deadline is coming up. December 1st. Yup,
THE
deadline for what probably is one of the best jobs ever.
Period.
In this blog and ones similar to it, you see snapshots of what the life of a sorority professional is like but I don't think any of us can ever really record just how much of an amazing experience this once in a lifetime opportunity is.
In just one semester I will have gone to 14 states
(not including layovers)
, 13 universities, and 25+ airports. I've been to places I have never heard of in my life, never thought I would go to but loved, and cities that stole my heart (
Chicago, can't wait 'til I'm back [:)
. But the
best part
is the fact that I get to work with sisters across the country and the world's future doctors, teachers, scientists, and leaders.
The women who will one day change the world
.
This time last year, I never thought my passion and love for Alpha Delta Pi could be any greater but it continues to grow as each day passes. Each chapter I visit may be in a different region or have a different background but at the end of the day it's our bonds of sisterhood and the values that we share that reinvigorate my love for this sorority. It doesn't matter where I am, I know I always have a home where my sisters are.
Now, to answer some of the questions future LC applicants have asked me over the last couple months....
Why did you decide to apply to be a Leadership Consultant?
There are many reasons why I applied to be an LC. Here are just a few of them:
1.) I've had a positive influence from former LC's who showed me true sisterhood even though we were strangers only days before.
2.) My sisters, both in my chapter and across the country, always believed in me even when I didn't always believe in myself.
3.) I gained so much from my collegiate experience: life long learning, professional development, personal growth, leadership experience, service opportunities, sisterhood, unforgettable memories, and so much more.
4.) I know that I can take on any of my dream careers in the future and feel prepared for them because of the skills I learned as a sorority woman. To be able to share these experiences with my collegiate sisters is an honor I'm proud to have.
What's the lifestyle like?
I live out of two suitcases and a carry on and average about two months in between visits home. I travel with clothes for all types of weather 'cause I don't always know if it's going to be snowing, hot, or pouring rain. This isn't your typical Monday through Friday 9-5 job, especially during Recruitment season. But I like to think of it this way, it's like everything I loved in college except I don't have to go to class because I already have my degree and I don't have to go to work because this is my job! The only homework I have is what I like to call my ADPi homework, or my chapter reports and blog :)
What does a consultant actually do?
Well, we wear many hats. At any time we can be a recruitment guru, pr and marketing expert, financial advisor, administrator, philanthropist, Panhellenic woman, volunteer, listener, event planner, crafter, artist, AV tech, educator, friend, and the list keeps going. Pretty much, we gotta be prepared for anything and everything. We're what I like to call a Sorority Professional. Not only have we mastered making the perfect mixer outfits, the hair flip, and the sorority lean and squat
(#TSM, I know)
, but we're prepared to run a well-oiled chapter, which is a lot like running a small business. Whatever a chapter needs, we're prepared to consult them in it. In an extremely short and far from complete paragraph, this is what we do.
Where do you live?
Well, Alpha Delta Pi Executive Office is in Atlanta and we do live there during training but that's really the only time I do. I do get some mail there and when I do go home, I go to Whittier. Other than that, I travel straight from one university to another so that's why I like to say I live wherever my suitcases are. I've stayed in sorority houses, dorms, and sisters' homes. Every visit it blows me away how warm and welcoming my sisters are. So for the next question, that would naturally follow this:
Do you get homesick?
I'll be honest, sometimes I do but more often than not, these visits fly by because they are SO MUCH FUN! I still can't believe my first semester is almost over! Technology is a great way to stay connected while on the road. If you haven't noticed yet, I'm all over the social media world so Twitter, Tumblr, Blogger, Facebook, FaceTime, Skype, etc. etc. keep me connected to everyone back home!
Where do you go?
Each Fraternity and Sorority has some variations as to how their consultant or field staff programs are structured. For example, some get to take their cars and some have set regions. As an ADPi LC, we don't have set regions which means I can be in the South one week, the Northeast Next, then the Mid-West, with a stop on the West Coast in between. In this semester, I have already had the chance to visit all 6 Districts hitting every time zone and almost every region in the USA
(Seattle and the Pacific Northwest, you're next on my list!)
.
In just one semester, I have already learned so much more about myself than I thought I would. Those lessons would probably have to be a whole 'nother blog series in itself. Now, more than ever, I know there really are no limits to what I can achieve.
Whether you're an Alpha Delta Pi or a member of another fraternity or sorority, I highly encourage that you look into your organization's field staff program. It's okay if you weren't President or didn't hold every position under the sun. If there's one thing I've learned as a sorority woman, it's that we are capable of whatever our little hearts desire and I would be more than happy to answer any questions you may have about the LC program, leadership, Fraternity and Sorority Life, or just life in general!! It's always good to look into all your post-grad options and I guarantee this will be an experience that will change your life for the better :)
If you would like to check out the Alpha Delta Pi Leadership Consultant program, go ahead and click
here
!
- Posted using BlogPress from my PiPad