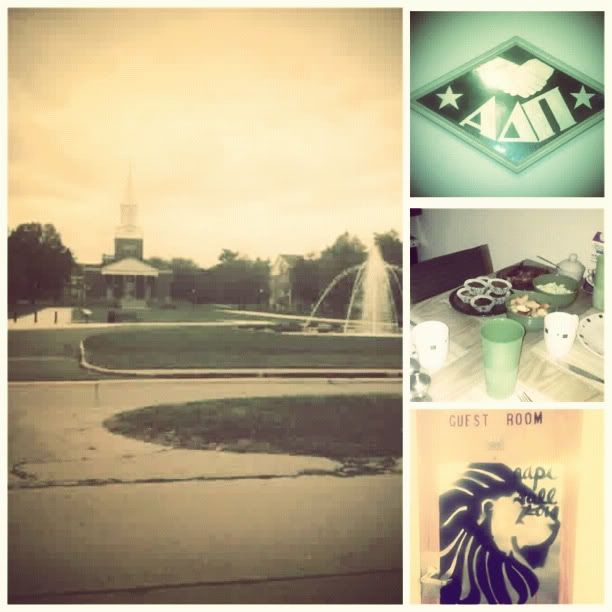 In September, I had the pleasure of visiting with the fabulous sisters of Gamma Kappa chapter which also happens to be my fellow consultant
Haley's
home chapter. I was SO excited to head to the chapter I had heard so many great things about AND see what life at a small university is really like. WVWC has just over 1300 undergraduate students and is about 2 hours away from the State Capitol, Charleston.
I flew into Morgantown, which is an hour out of Buchannon, and the smallest airport I've ever been to in my life!! The person who checks you in is the same one who takes your ticket and loads your bags on the plane. Okay, maybe I'm exaggerating, but you get my drift, it's small. After being picked up by sisters who have their clinicals out in Morgantown, we headed to the Olive for dinner (unlimited soup, salad, and breadsticks? YES, PLEASE!). The adventure began when we headed back to Wesleyan....
When we walked out of the Olive, it was SO FOGGY! I hadn't seen anything that heavy in a while, so of course, we drove at a moderate speed since we couldn't really see more than a couple yards ahead of us. We had to stop by a gas station so when we see the little pump on a sign near the exit for Lost Creek, we think "Perfect! We'll stop there". There were trees everywhere, not very many houses, and the ones that were there were pitch dark. We see a faint glow from a street light ahead where the gas station was but as soon as we get close there's a man just standing by the side of the road....in the dark....by himself...no bus stop or other living thing in sight....at 10 pm.....and the interior lights at the gas station are all off...
A sister in the back seat, yells "Don't Stop! Keep Going!" and what did I do? I just started laughing in disbelief of what was happening. It was straight out of a movie when you yell at the actors to not go down the dark scary road, haha but don't worry, we found an open and well lit gas station and obvi, made it back to WVWC safe and sound! We scored an awesome parking spot which is sometimes hard to find (CSUF peeps, y'all know all about that right? haha #CSUFProblems).
When I walked up to the door of the room I would be staying in, there was an awesome door dec waiting for me with my name on it. Inside, it was decorated with presh ADPi and RMH memorabilia and a little basket for snacks. The perfect welcome! The next two days were spent in officer meetings in their cute Chapter Suite with a replica of our badge on the wall, hanging out at the awesome Buchannon coffee shop, the Daily Grind, getting ready for Preference Night, duets on the piano, and singing ADPi cheers and songs! Minus being much too short, it was the perfect ADPi visit before I headed back to California for my days off.
I know I say this every post, but it really does blow me away how at home I feel at a place I have never been too. It's all thanks to this sisterhood I'm so blessed to be a part of <>
#homeiswheremysistersare
- Posted using BlogPress from my PiPad