I am definitely up later than I should be right now but I haven't entirely adjusted to the time change SO, I'm coming to you live from
the
Pi Palace on Ponce.
I cannot believe this incredible adventure has finally begun and I am thrilled to be completely emerged in this amazing sisterhood. I am having the time of my life already(fire alarm mishap and all) and it's only Day 2!
This gorgeous loggia is the BEST commute to work a girl can ask for. Definitely one of my favorite parts about headquarters. Let me tell you, this SoCal girl loves ALL the gorgeous green this area is covered in. We do not have trees like this back home and minus the humidity, I'm loving everything here.
We had the pleasure of hosting the wonderful gentleman of Pi Kappa Phi today. Their consultants were in the area and stopped by for a tour of Headquarters before heading back to Charlotte. It was great meeting people who are starting a year like ours and we were def loving' the serenade at the end of their visit. We took some fabulous and entertaining pictures and
I promise to have one up ASAP
it's up!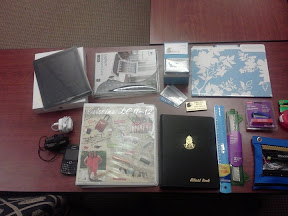 To top it all off, we received some fabulous PRESENTS!!!! (well, supplies, but it felt like Christmas so I'm going with presents) All set up and ready for us were our brand new P
iPad
2s, keyboard, Blueberry (aka blackberry), Binder with a super cute cover made by my awesome Violet Sister and Senior Consultant Lori, Business Cards, ADPi Business Card Holder, Official Name Tag, Pisa (visa), AAA card, Avis Card, our
very own to keep forever
Ritual Book
(Zeta Alpha sisters, I know y'all know how excited I am about that)
, and some great office supplies. With these great tools and the in depth training in store for these next three weeks, I'm feeling like we'll be ready for anything when it's time for us to venture out into ADPi world.
What's on tomorrow's agenda?
a little trip to the beginning of the First and Finest
Macon, Georgia
- Posted using BlogPress from my PiPad
Location:Alpha Delta Pi Memorial Headquarters and Executive Office, Atlanta, Ga.